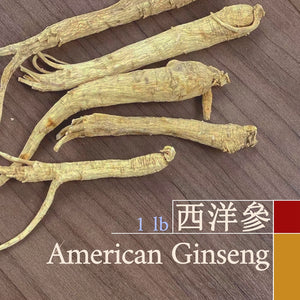 Raw American Ginseng 1LB 生草藥-西洋參
Regular price
Dear customer, since you are currently not a registered user of our website, please contact (905-606-0222) or email (info@rende.ca) our company to purchase this product.
Description
Actions
Benefits the Qi,

Generates Fluids & nourishes the Yin.

Nourishes Lung Yin and clears fire from the Lungs, Calms restlessness.
Indications/Syndromes
yin deficiency with heat signs and chronic, unabating fever.
the aftermath of febrile disease with such symptoms as weakness, irritability, and thirst.
impairs the clearing and dispersing functions of the Lungs.
cough, coughing up blood, and loss of voice due to Lung yin deficiency.
產品介紹
中文適應症
脾虛食少便溏,倦怠乏力
血虛萎黃
婦女臟躁
神志不安
減少烈性藥的副作用,并保護正氣
調和營衛
調補脾胃
過敏性紫癜