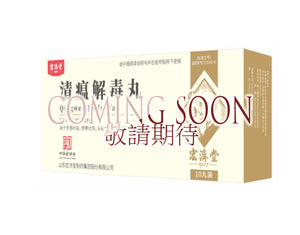 Qingwen Jiedu Wan 清瘟解毒丸
Regular price
Dear customer, since you are currently not a registered user of our website, please contact (905-606-0222) or email (info@rende.ca) our company to purchase this product.
Description
Coming Soon~
Quantity
  9g per bolus, 10 boluses per box
Indications/Syndromes

Clear plague and remove toxicity.

Clinical indications: relieve such symptoms as headache, anhidrosis, aversion to cold, dry mouth, mumps, fever with swollen head due to epidemics.
Administration/Dosage

Take orally, 2 times a day, 2 boluses each time; dosage for children reduces according to health practitioner.
【About Hongjitang】
Shandong Hongjitang Pharmaceutical Group Co. Ltd was founded in 1907.
The founder, Yue Jingyu, is the 12th generation descendant of Tongrentang Yue's grandson.
It is a nationally-known Traditional Chinese Medicine (TCM) company, ranking in the top 50 in China's TCM industry. Hongjitang has 151 registered TCM products, including ten proprietary products, giving it a strong competitive edge.
It has successfully jumped from traditional production to the most modern manufacturing technology.
產品介紹
中文適應症
用於外感時疫,憎寒壯熱,頭痛無汗,口渴咽乾,痄腮,大頭瘟。